Find Me on Facebook


T

ammy Storie has lived in Lakeland since 1973, and she has been with Keller Williams since 2004. Since that time, Tammy has won numerous performance

awards

for home listings and sales.

Because Tammy has remained in the top 20% in sales for the Lakeland Market Center, she has been selected as a member of the Keller Williams Agent Leadership Council (ALC) for several years in a row.

Tammy is well established in the community and is very familiar with the real estate market and trends in the greater Lakeland and surrounding areas. Tammy is a people person who enjoys helping people achieve their dreams by finding the right home.

"I strive to help sellers get the most money from the sale of their home with the least stress possible. I conduct relentless searches for my buyers to find them the best possible deal. I take great pride in the way I conduct business and establish relationships with each and every client. I am committed to each of my clients and will be there for them every step of the way."

Tammy is also very active within the Lakeland community. She supports youth sports organizations, and donates to charities that are specific to children. The

St. Jude Children's Research Hospital

, Lakeland Regional Medical Center (Pediatrics), and the

Lakeland Eagles Youth Football and Cheerleading

organizations are among her favorite.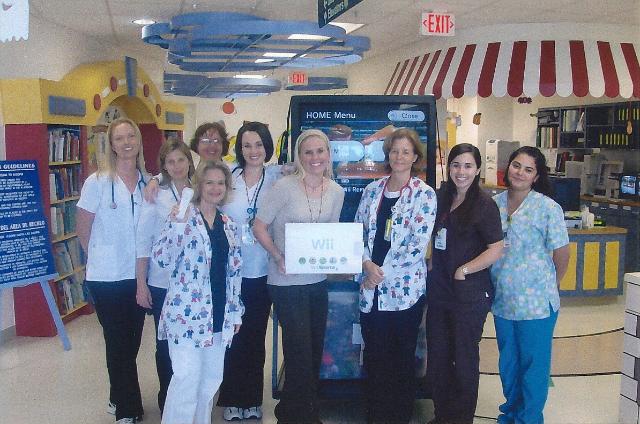 The above photograph was sent to Tammy by the nurses on the pediatrics floor at the Lakeland Regional Medical Center. The photograph was sent in appreciation for Tammy donating a Wii for the patients on the floor.

The real estate business is Tammy's professional passion. She loves working with and meeting people. When you meet Tammy, you know immediately that she is genuine and kind. She is honest, sincere, and never has an unkind word for anyone. She conducts her business in the same manner.

As her husband and website manager, I get the priviledge of telling you about Tammy with an upclose and personal knowledge. This page was not written by someone who specializes in creative writing. This page was written by someone who knows Tammy on a personal level.

What you don't get to see behind the scenes with Tammy are the many discussions we have had about her real estate business dealings. I have personally witnessed Tammy walk away from business transactions that were not in the best interests of her clients; even though she stood to make a good deal of money. I have witnessed her break down and cry when someone she was trying to help buy a home simply just could not qualify.

You see, Tammy understands that money is not the most important part of her passion. People are her passion, and that is why she has remained successful in the real estate business; even in an unstable market.

I am lucky to have Tammy as my life-long partner. When you meet her, you will understand why. I wish I had a dime for every time someone told me how sweet she is. I could retire!
Thanks for taking the time to look at her website.

Terry