Get Answers to Your Frequently Asked Questions
Common Questions from Home Buyers
Q: Why should I use a real estate agent to buy a home? Don't I have to pay more money for commissions?

A: No, you won't pay more money. In fact, without a real estate agent, you could lose money. My real estate services for buyers are free. Those who are selling their homes already have the commissions factored into their asking prices. The listing agent has already entered into a contract with the seller, and will be looking out for the seller's interest by trying to sell the home for the most profit in the shortest amount of time (as they should). Having a licensed realtor is like having your own personal professional advocate , and it's a free service. Buyers, generally speaking, never pay commissions. I wish I had known this when I bought my first home!

Q: If I am buying a new construction home, why would I need a realtor? Why not just deal with the builder directly or agent in the model home?
A: This is possibly one of the best kept secrets in the industry. Home prices with new construction are negotiable. You need someone to negotiate price on your behalf. You need a licensed realtor who has knowledge of your local market so you don't buy a home that is priced too high for the current market. Again, the agents in the model homes are working for the builder, and are looking out for the builder's best interests (again, as they should). Having your own personal and licensed real estate agent is a free service as a buyer. You are at a disadvantage without one.
Q: What kinds of services do you offer buyers?
A: First and foremost, if you are not prequalified for a home loan, I will arrange a meeting with a loan consultant. Too many have put the cart before the horse, gone house hunting, and fell in love with a property they could not qualify for later in the process. Once we determine the amount you qualify for, I will conduct a diligent search for the real estate that interests you. I will customize your search to fit your needs, and notify you immediately when a property matching your parameters becomes available. This saves you an enormous amount of time and money. Once we find a home or property for sale matching your specifications, I will negotiate offers on your behalf. I will conduct thorough comparative market analysis to make sure you are not overpaying for a home or real estate property. Once a contract is accepted by a seller, I arrange for the home to be inspected by a trusted and licensed inspector. If problems arise with the inspection, I will negotiate the repair with the seller's agent. Next, I will work with you and the mortgage company side by side to make sure the loan process runs smoothly. Finally, I will meet you at the closing table! All of these services are yours at no cost to you.
Q: Can you still help me buy the house I want even if your name isn't on the yard sign?


A: Yes. As a licensed real estate agent, I can provide you real estate services at no cost for any real estate property in the greater Lakeland and Winter Haven area. My real estate license is issued by the state of Florida, therefore, my real estate services are available throughout the entire state. I can also help you with purchasing real estate outside of Florida through a referral service program.
Q: Why don't I just call the real estate agent listed on the yard sign?


A: Remember, if a realtor has listed the property for sale, that agent has entered into a binding contract with the home owner. The real estate agent selling the property has promised the owner to sell the property for the most profit in the shortest amount of time possible (as they should). I will represent you as a home buyer keeping your best interests in mind. Again, this is a free service that I offer. Keep in mind, the commission has already been factored into the asking price of the property for sale. The price of the real estate does not increase or decrease based on the number of realtors in the transaction. Price is determined by market analysis and skillful negotiating.
Common Questions from Home Sellers
Q: How much is the real estate commission for selling my home?


A: The real estate commission for selling your home is 6%. You will occassionally find realtors who will take a listing for less commission, but they quickly realize the mistake. Real estate agents who represent home buyers conduct diligent and thorough searches for homes and property for sale on the Multiple Listing Service (MLS). Part of the information on the listing is the commission split for the sale of the home. If you were a buyer's agent who found two comparable homes favailable on the market for your buyer, and both were acceptable for your clients, wouldn't you show the house with the hgher commission split? Most would, and do, abandoning the lower commission home. One of the tricks of the trade to selling your home quickly is to determine whether it is more profitable for you to lower the price of the home or raise the sales commission to make the home more appealing for real estate agents with qualified buyers.
Q: Six percent commission seems like a lot of money. Do you keep all of the commission?


A: I wish. The answer is no. I have created a visual illustration of where the real estate commission goes. The intent of the illustration is to give you an idea of how the real estate commission is applied.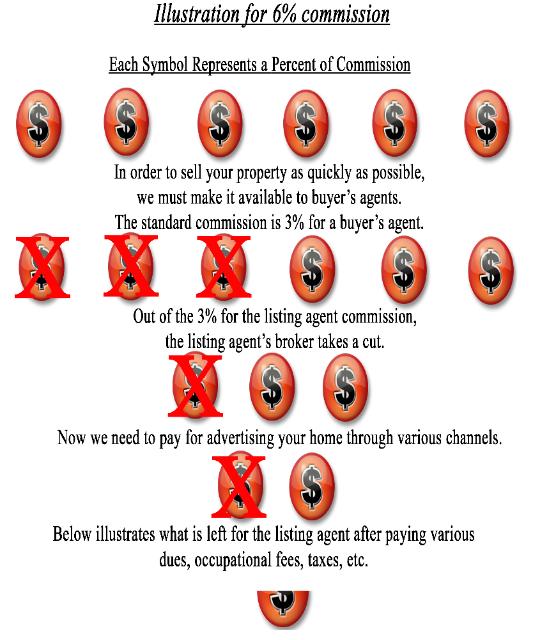 Keep in mind, the buyer's agent has to pay the same type of brokerage and occupational fees which comes out of the commission split. I hope this illustration helps you to understand the real story of commissions paid to realtors by the home sellers.
Q: How do you advertise my homes that you have listed for sale?


A: In order to answer this question, one needs to understand home buyers and where they go to find real estate for sale. You might be surprised at what the data indicates. I have provided you with a graph below. The data for the graph was taken from the National Association of REALTORS.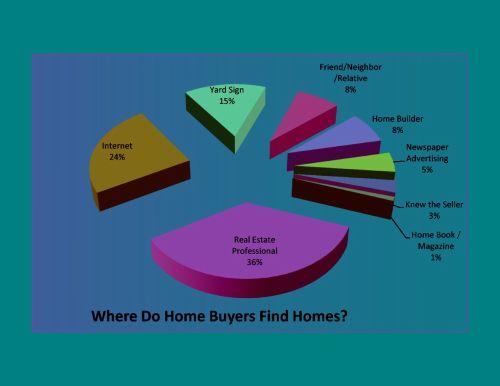 The data shows that the top three sources for buyers to find real estate offered for sale are Real Estate Professionals, the internet, and yard signs. Only 1% of home buyers find houses for sale in print adverstisement geared toward real estate. Print advertising in these types of publications is expensive, antiquated, and uneffective.
I focus my advertising efforts in the top three sources buyers use finding homes for sale: Real Estate Professionals, the internet, and yard signs.
Real Estate Professionals are kept abreast of the homes that I have for sale through the MLS. The data in MLS is updated constantly keeping the other agents informed of status and price changes.
My listings are also advertised through various internet sources. This website for example,
www.tammystorie.com
is closely monitored for site traffic and and adjusted for site performance. According to Google, this website performs above the averages for all real estate websites across the nation that are similar in size. Here are a few statistics obtained from Google about
www.tammystorie.com
in a recent 30 day period.
| | | |
| --- | --- | --- |
| Benchmarking Stats | www.TammyStorie.com | Similar Real Estate Websites |
| Visitors | + 700% | |
| Page Views | +2,325.58% | |
| Pages Viewed per Visit | +201.67% | |
| Time Spent on Site | +863.96% | |
| New Visits | +5.4% | |
| Bounce Rate | | +1.61% |
* A Bounce Rate is basically when a site visitor immediately exits the site upon the page opening

Aside from this website, I use various other internet tools such as professional newsletters, other website services, and research tools to market your property. All of the marketing tools I utilize to promote your property, including yard signs, are highly visible and marked with my familiar brand logo:

Contact me for a detailed listing presentation.

This page is constantly being updated. Check back for more answers to your questions.